Photo: AFP
French fuel crisis latest: 5,100 petrol stations run dry
Motorists in France spent another day queuing for petrol or
desperately checking smartphone apps
to find a petrol station near them that has fuel (see the
best apps for finding petrol here
).
The worsened on Thursday with more workers joining strikes as part of the eighth day of mobilisation against the government's unpopular labour reforms.
Unofficial estimates on early Thursday evening suggested at least 5,143 out of the 12,000 petrol stations in the country were without fuel or running low.
With over 40 percent of petrol stations affected by shortages it was becoming harder and harder to get fuel.
Maps produced by the smartphone app Essence show how the crisis has spread across the country in recent days. Compare the map below of the number of petrol stations running out of fuel on Thursday compared to the Monday (second map below).
CLICK HERE for an interactive version of the map
(Petrol stations with shortages on Thursday)
(The same map on Monday)
Local authorities around the country have been forced to impose caps on the amount of petrol drivers can purchase, with most limits set at 20 litres.
However authorities in Brittany lifted the rule on limits on Thursday, thanks to the fact that supplies had got through to petrol stations.
The French government continued to take firm action against strikers blockading oil refineries and depots.
On Wednesday, watched by 80 striking workers, riot police used water cannons to move burning tyres blocking access to a key oil depot in Douchy-les-Mines near the Belgian border that had been in place since last Thursday.
The Prime Minister Manuel Valls said more refineries and depots would be "unblocked" in the coming days.
But five out of the country's eight oil refineries were still hit by strike action on Thursday with the government admitting it had been forced to dip into its strategic reserves.
CGT leader Philippe Martinez has vowed to continue the action until the labour legislation is withdrawn.
And polls suggest that despite the disruption to motorists, much of the French public back the strikers.
Queuing for petrol at a Total station in Paris, motorist Benjamin, who lives in Saint-Lô, told The Local: "I've already been waiting for 35 minutes. I need petrol to get home because I live 400km from here. I support the strikes. The government is at fault. I'm not irritated by those protesting."
On Wednesday an opinion poll suggested a majority of French people would like to see the labour reforms bill scrapped if it meant the strikes and the blockages came to an end.
However on Thursday morning the embattled Prime Minister Manuel Valls insisted the bill would not be withdrawn.
"The withdrawal of the bill would show its impossible to govern. This country is dying from its inability to reform," he said.
Valls did however suggest the government would be open to modifying the reform, again.
**********
Police and protesters also clashed in Paris last week. Photo: AFP
Masked youths clash with police in Paris protest
They were among around 100 people who broke away from a demonstration and set about smashing shop windows and parked cars in a side street, he said.
The clashes occurred near the Reuilly-Diderot Metro station to the east of Paris.
A police source told Le Figaro newspaper that glass bottles had been thrown at officers.
A journalist at the paper said that both the attackers and those covering the story got sprayed with tear gas.
"The protesters were pushed up against the shop windows, loads of people were crying and were panicking,"
the reporter said
.
Tweets from the scene showed damaged shop windows, with some protesters even apparently targeting car dealerships, where they smashed windows and sprayed graffiti on the vehicles.
Officially the movement is in protest against the labour reforms that are aimed at freeing up the country's rigid jobs market, partly by making it easier for companies to sack workers.
The reforms have prompted months of protests, and nationwide strikes across France this week that have affected trains, flights, nuclear power, fuel depots and particularly oil refineries.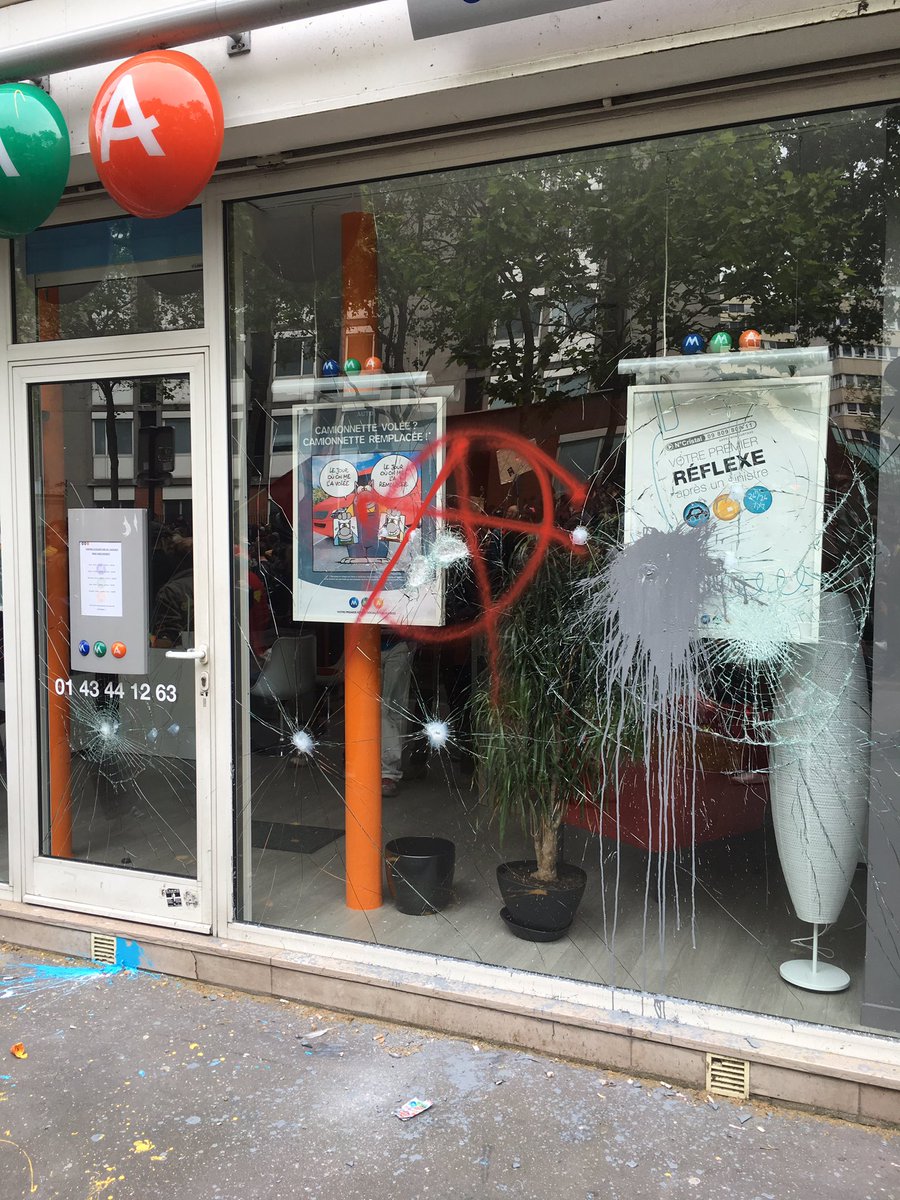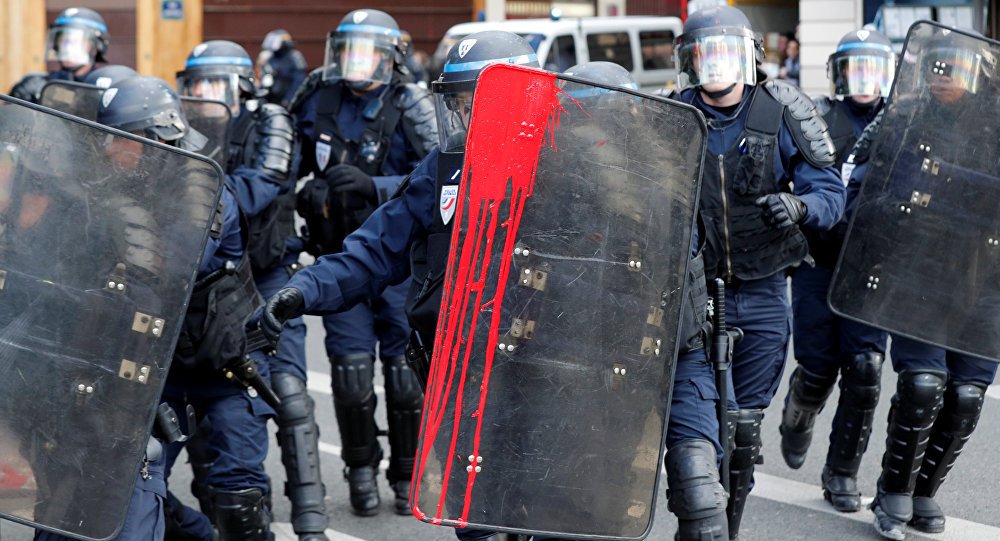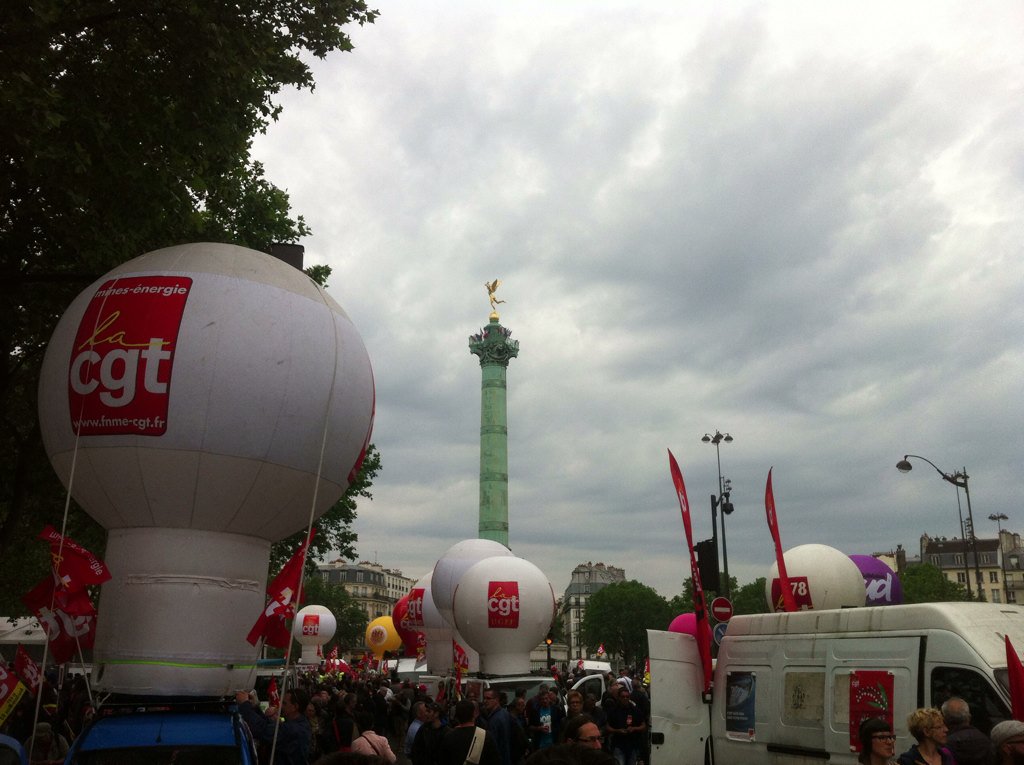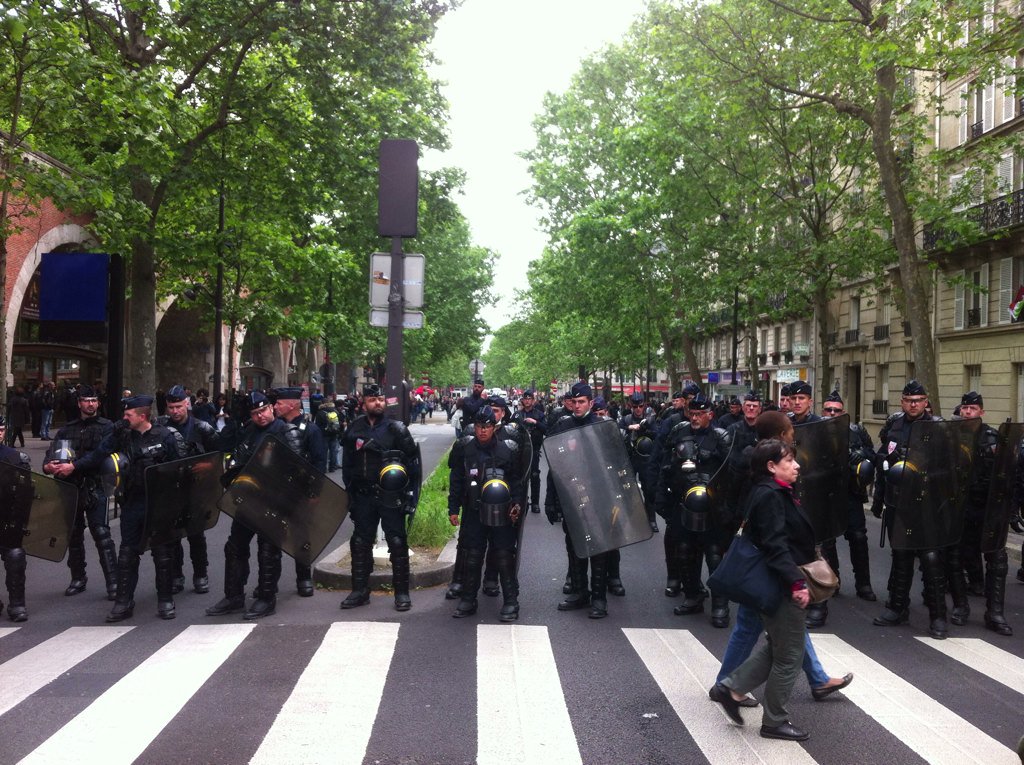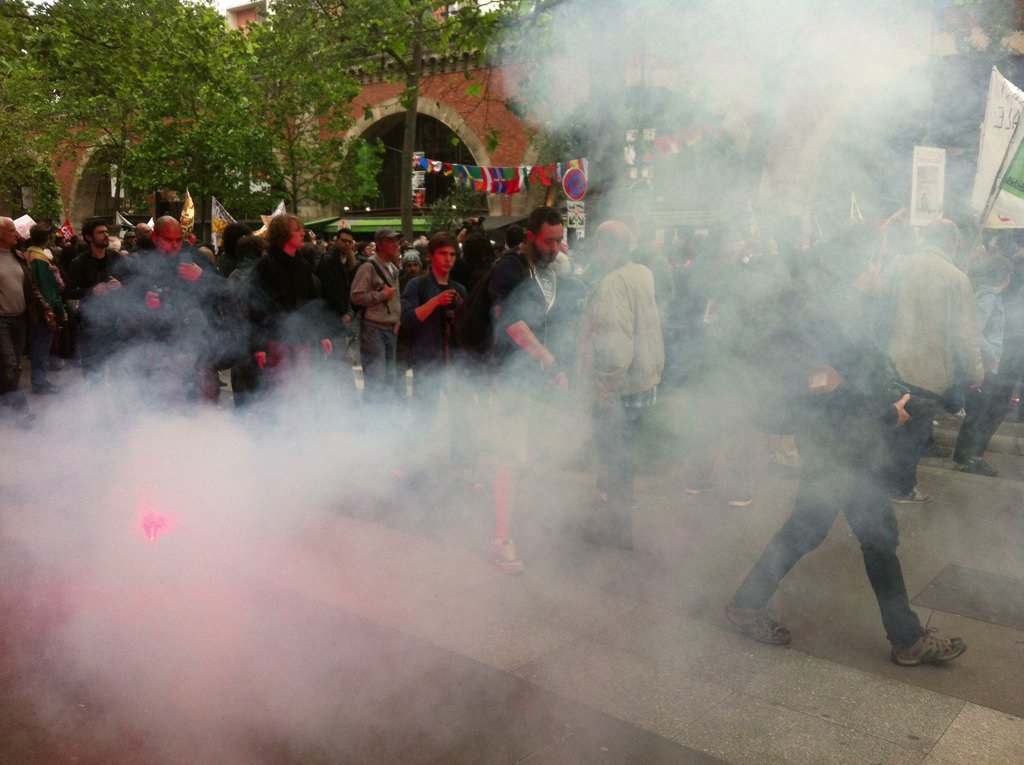 #Greve26mai

/

#LoiTravail

> Et à l'entrée du bvd Diderot les premiers "Paris, debout, soulève-toi" et "Tout le monde déteste la police"
#
Greve26mai
/
#
LoiTravail
> Boulevard Diderot, une partie du cortège décide de bifurquer rue de Chaligny (pas en direction de Nation quoi)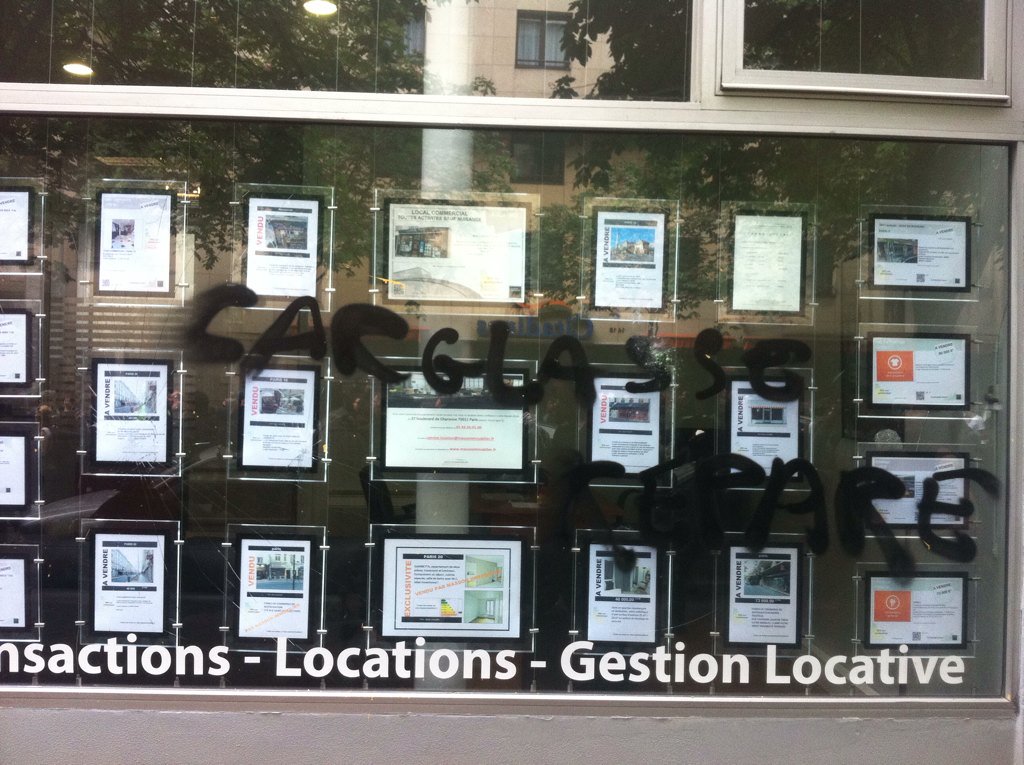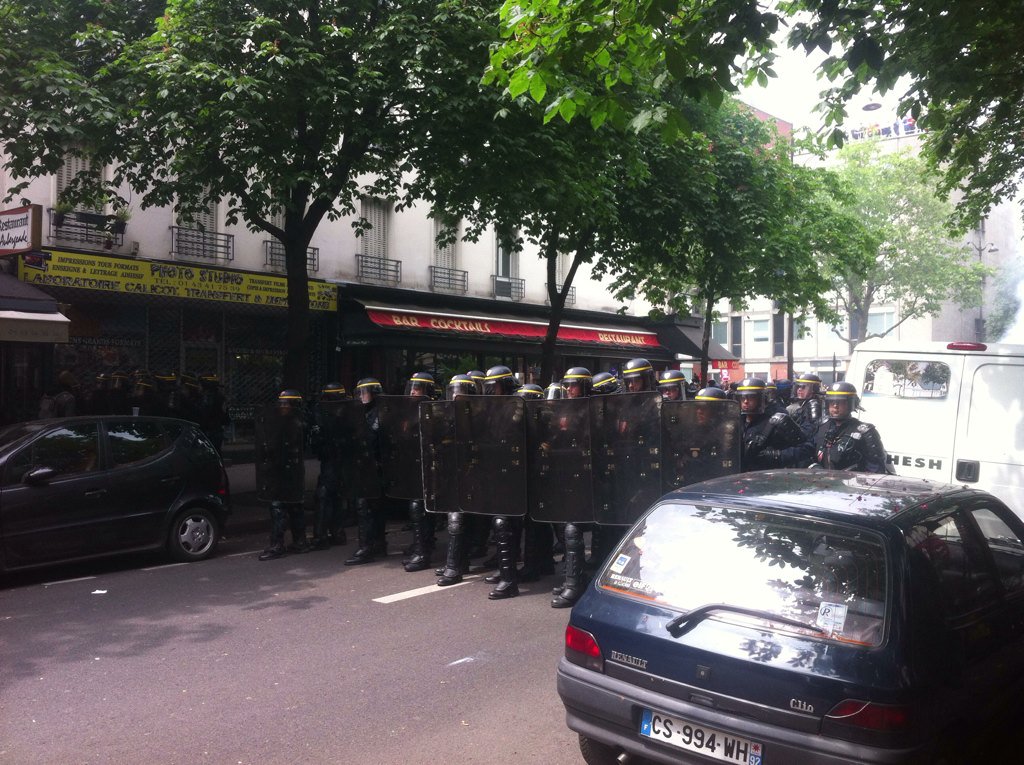 #
Greve26mai
/
#
LoiTravail
> Rue de Chaligny les CRS repoussent les manifestants qui veulent sortir de la nasse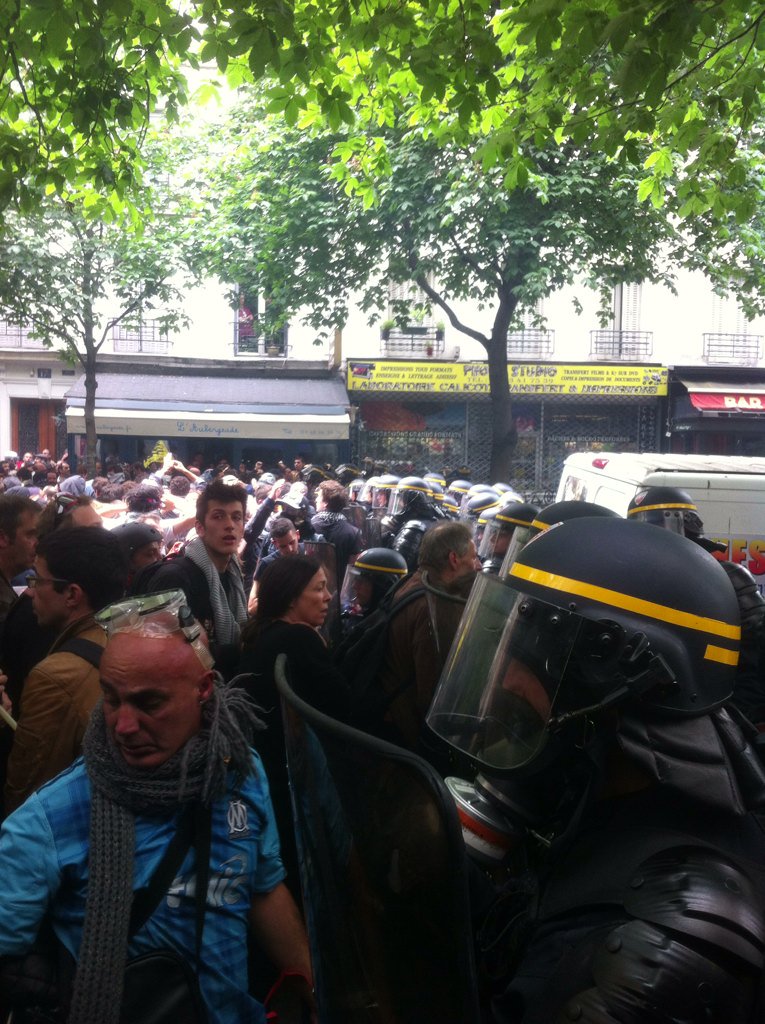 #
Greve26mai
/
#
LoiTravail
> Les manifestants qui étaient nassés rue de Chaligny ont eu droit au gaz lacrymogènes, sans issue possible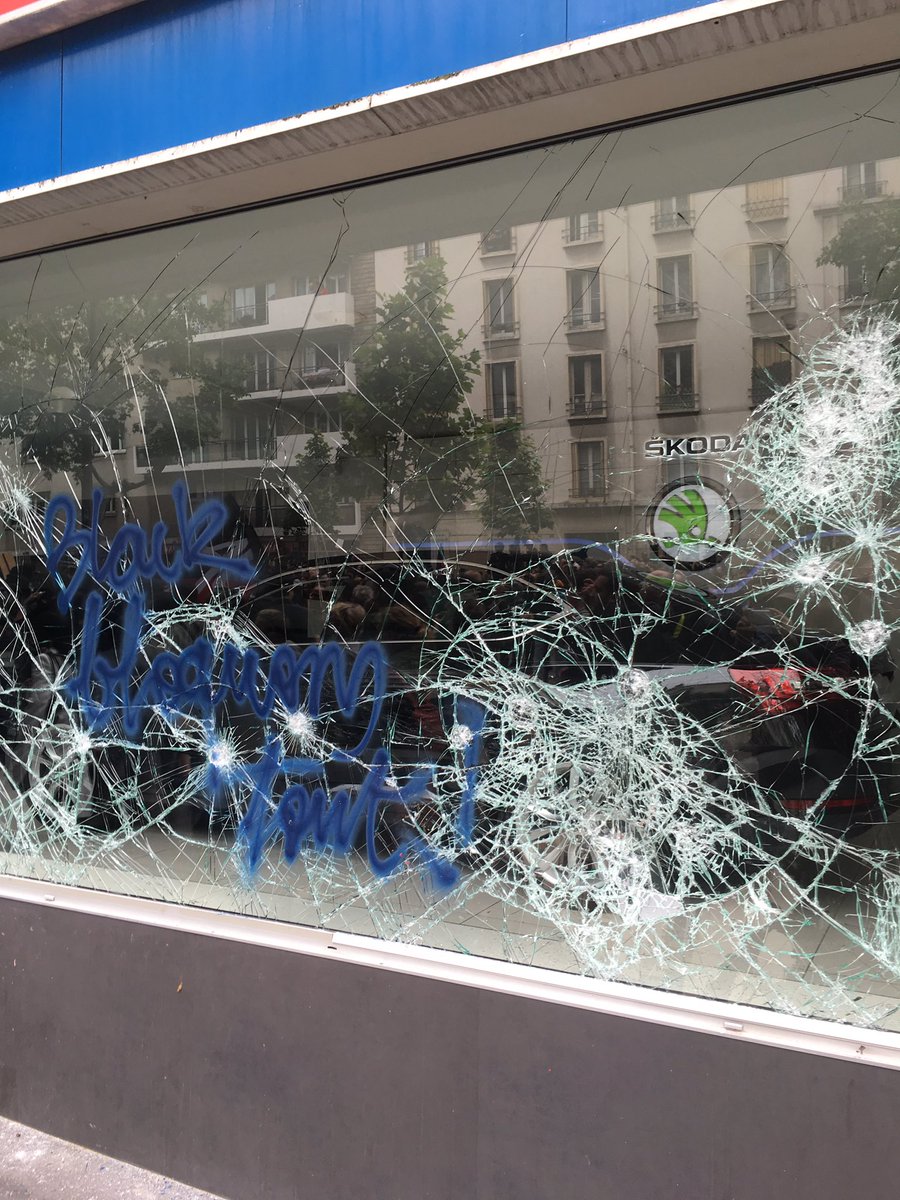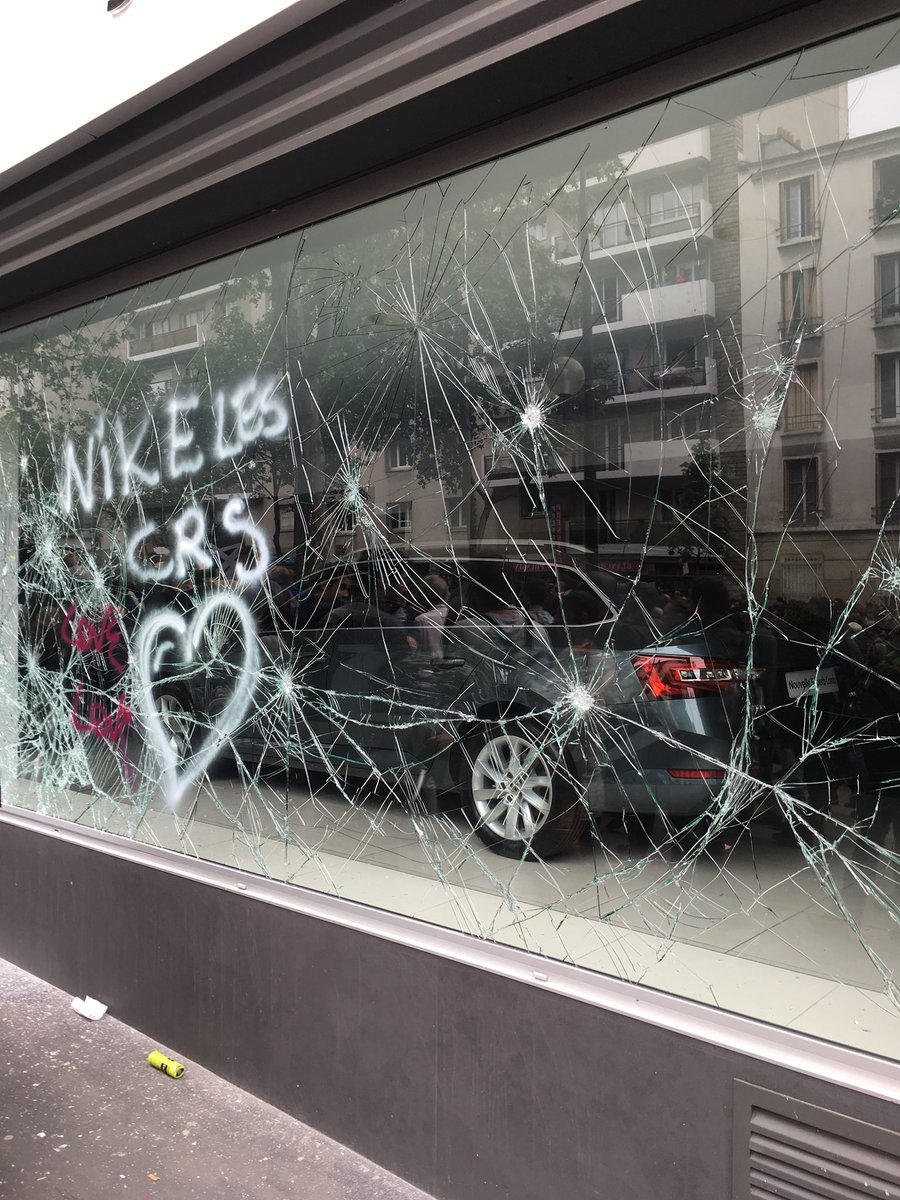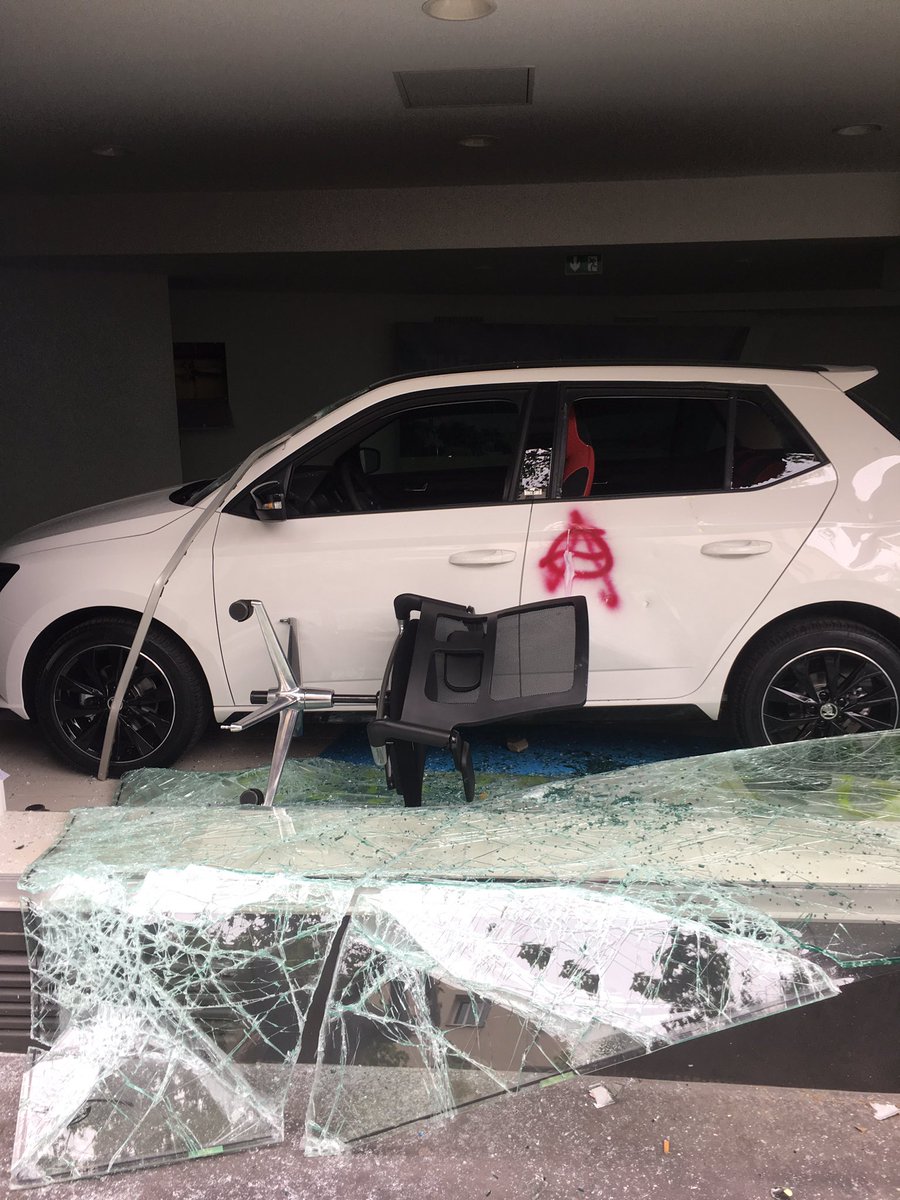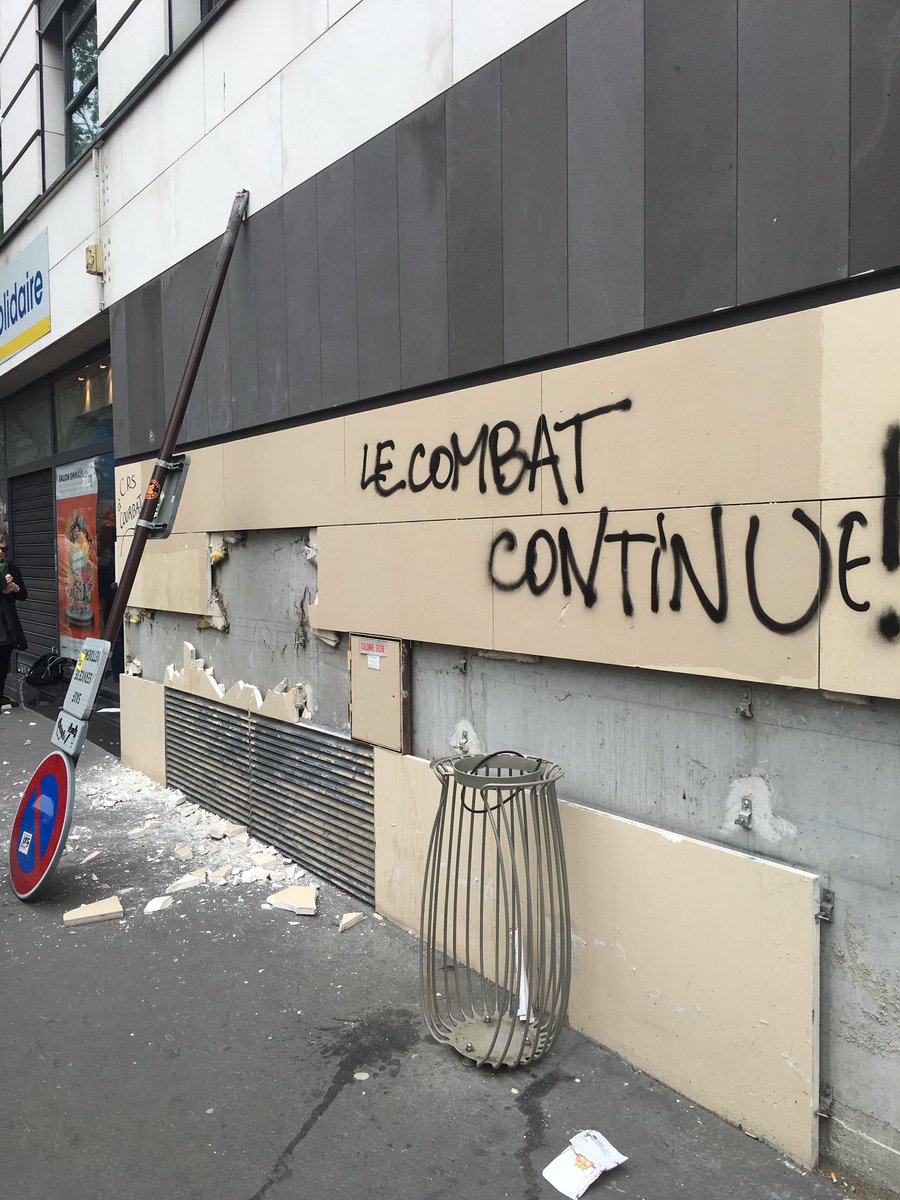 @paul_louis11

'' le combat continue '' ...la chute et la décadence de la France aussi....Il faut que cela cesse !
@
paul_louis11
Quelle image déplorable donnée à l'étranger et aux touristes ! Après les attentats , cette situation auto suicidaire ...
@
paul_louis11
amusez-vous,brûlez,détruisez,agressez,il faut bien se détendre , surtout si les juges refont le Mur des Cons pendant ce temps
Things have also kicked off in other cities in France, notably in Lyon where protesters have also clashed with police (see tweet below).
Protesters have also taken to the streets of southern Toulouse, where strikes at the airport have seen almost 20 flights cancelled so far on Thursday.
French fuel crisis latest: 5,100 petrol stations run dry
Reviewed by
Ajit Kumar
on
7:47 AM
Rating: